The programs at Catholic Charities of Chenango County provide many types of services and support for people in our community.
We are able to bring these services to individuals and families in need through the support of state organizations, local foundations, and individual donors. We maximize the impact of the financial support we receive by partnering with other local providers, which in turn helps strengthen support for individuals and increases long-term success.
Health Home Care Coordination
Are you Medicaid eligible and have a serious physical or mental health condition?  If so you may be eligible for Care Coordination Services.
Catholic Charities of Chenango County partners with Bassett Community Health Navigation Services Health Home and with Catholic Charities of Broome County Health Home to provide comprehensive care management and care coordination services to New York State Medicaid recipients.
Care Coordination Services assist Medicaid recipients with serious physical health and behavioral health needs to navigate the complex healthcare system that is available to them.  Care Coordination offers comprehensive care management, care coordination, individual and family support, level of care transition planning and referral services.
To receive more information or to see if you are eligible for Care Coordination Services contact the Catholic Charities of Chenango County office at (607) 334-8244 or stop in at 3 O'Hara Drive in the city of Norwich.
Roots & Wings is an emergency services and self-sufficiency program located at 105 Leilani Lane in Norwich.  We provide food security programs, emergency housing services and prescription assistance for individuals and families in need making it a unique resource for our county. The goal of the program is to provide a "self-help center" where people can get assistance with immediate needs, as well as resources to help them become self-sufficient.
Services include:
• Food pantry
• Thrift Store
• Prescription assistance
• Food $ence program
• SNAP assistance / pre-screening
• Disaster relief
Office Hours of Operation:
Thrift Store: Monday - Friday 9:00 am - 3:30 pm
Food Pantry: Monday - Friday 10:00 am - 3:00 pm
Please Note: ALL SERVICES are closed daily 12:00-1:00pm
Contact Roots & Wings at 607-336-7897 for more information.
We offer several community based residential and Supported Housing programs that address the specific needs of our clients.  Our programs are staffed with skilled and compassionate individuals that provide continuous assistance for clients. We place an emphasis on skill development and socialization, as well as promoting independence for clients to the highest degree possible. Below are the different programs our agency provides:
Apartment Treatment Program

The Apartment Treatment Program  provides apartments for clients to live on their own  and receive daily support from staff. The program's goal is to foster independence and success living in the community, and clients build upon skills learned in other congregate care settings or in the ATP program itself.

Assistance with daily skills is tailored to meet the needs of the client. The program has 14 apartments located throughout the City of Norwich, and clients are referred through the county S.P.O.A. (Single Point of Access), or though hospital networks and community mental health providers.

For more information, contact ATP staff at 607-336-8939.

Scattered Site Supportive Housing

Supportive Housing is designed to assure that people who suffer from Serious Mental Illness (SMI) have access to safe, and affordable housing & community services. The program provides assistance with:

Securing safe and affordable housing and possible rent stipends.

Referral to community supportive service, such as care management, continuing day treatment program, outpatient mental health and substance abuse clinics.

Assisting individuals with purchasing furniture, household supplies, and providing support in the relocation process.

Eligibility criteria:

In order to be served by the supportive housing program, the individual must meet the criteria for Serious Mental Illness.

Supportive housing funds are targeted to three populations:

-Those leaving Psychiatric centers.

-Those determined to be eligible through the diagnosis and assessment from a licensed mental health clinician.

-Individuals who are currently homeless.

Individuals who meet the criteria for SMI who are currently living in the community independently may be referred for household goods, furniture and rehabilitation to their homes that would not otherwise be possible.

Supportive Housing has been found to greatly reduce homelessness and hospitalizations, and it often has some effect on reducing symptoms,
improving social functioning and improving physical health. It also has been proven to improve quality of life.

For more information, contact us at 607-334-8244
Developmental Disability Programs
Catholic Charities of Chenango County offers a full line of programs designed to meet the needs and provide assistance to individuals with developmental disabilities.  Our services offer residential services certified by the New York State Office for People with Developmental Disabilities (OPWDD), Medicaid Service Coordination (MSC) and Home and Community Based Services (HCBS) including Community Habilitation, Respite Services and Intensive Behavioral Services (IBS).  Please view our pages below for full program descriptions.
If you would like more information about our Developmental Disability Programs, please contact Jeff Chesebro at (607) 334-8244.

An Individualized Residential Alternative (IRA) is a type of community residence that provides room, board and individualized service and support options. Supervised IRA's provide 24 hour staff support and supervision in a home atmosphere where individuals with developmental disabilities can acquire the skills necessary to live as independently as possible.
Haven Hill is our residential community IRA and Respite facility located in Sherburne New York. This home provides permanent housing and respite services for 6 Individuals.
Staff support residents with an individualized service plan focusing on daily living, recreation, community integration and day habilitation programming.
Contact us at 607-334-8244 for more information.
Respite services provide temporary relief from the demands of care giving, which helps reduce overall family stress. This often enables families to better meet the needs of their loved one with a developmental disability.
At Home Waiver Respite Services are provided in the home to give relief to the primary caregiver. They are available to applicants who have Medicaid or who meet the requirements of the Medicaid waiver according to the Office of People with Developmental Disabilities (OPWDD).
For more information contact us at 607-334-8244.
Community Habilitation Services
Hourly Community Habilitation services are services that are provided to individuals who live at home independently or with a caregiver.  Community Habilitation services can be delivered at any non-certified location, including the individual's home.  Supports include adaptive skill development, assistance with activities of daily living (hands-on), community inclusion and relationship building, training and support for independence in travel, transportation, adult educational supports, development of social skills, leisure skills, self-advocacy and informed choice skills, and appropriate behavior development to help the individual access their community.
For more information, please contact us at (607) 334-8244
The Counseling Program offers professional, affordable counseling and therapy services. Our licensed, professional staff provides confidential counseling for individuals (children, adolescents and adults), couples, and families. Stress, high anxiety, depression, social isolation, family relations, and academic issues are some examples of the types of problems that we assist clients with. We provide a safe, non-judgmental environment with professionals using some of the most effective therapeutic modalities available.
Our goal is to help those in need, and we take your financial needs into consideration when establishing fees for counseling services. Those without health insurance coverage are eligible for a sliding scale fee based on household income and family size. We also have counselors on staff that are eligible to accept many insurance plans.
Appointments are flexible with the needs of our clients the primary consideration.
Contact our offices at (607)334-8244 for more information.
---
IF YOU ARE IN CRISIS AND NEED IMMEDIATE HELP:
Please call the 24 hour Mobile Crisis Assessment Team (MCAT)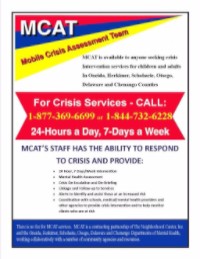 USEFUL LINKS:
Lists of assets by age group

Variety of resources regarding cognitive behavioral therapy (CBT)

Article about workplace depression and how to remain happy in the workplace

NAMI website hosting a variety of useful links and information

Website to assist school personnel and professionals in Tompkins, Seneca, and surrounding counties with making referrals for student mental health issues, and to provide resources.

<iframe width="560" height="315" src="https://www.youtube.com/embed/gLcgpB5l-A4" frameborder="0" allow="accelerometer; autoplay; encrypted-media; gyroscope; picture-in-picture" allowfullscreen></iframe>